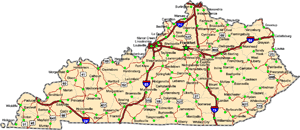 Kentucky imposes a highway use tax on owners, operators, and registrants traveling on Kentucky roadways with a combined license weight greater than 59,999 pounds.
This tax is based on vehicle weight and miles traveled on Kentucky roads. Companies must register for each vehicle. 
Those subject to the Highway Use Tax (KYU) must file a Kentucky Highway Use tax return on a quarterly basis, and pay the tax due.